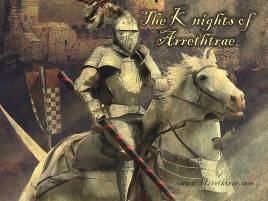 Welcome to the Arrethtrae Wiki
Edit
Don your armor, fasten your sword, mount your steed, and get ready to embark on an epic journey of biblical significance, into a kingdom of warriors, battles, swords, villains, and knightly heroes! The Arrethtrae Wiki is for fans of the epic Kingdom Series/Knights of Arrethtrae, and you can help the community grow by editing and adding pages!
A call to arms!
Edit
Our founder, Bluehat8, is working hard with other Kingdoms fans to create a video game titled Arrethtrae: Knights of the Prince. All the downloads are located on the official page at timtechsoftware.com/arrethtrae and you can also sign up for a job testing it once it goes into Beta testing (which will take a while). Give your input on 0.1.3 and help make the storyline better! You can do anything to help this great call to arms as the Kingdoms Series and the Knights of Arrethtrae get depicted in one of today's most popular forms of entertainment, video games.
Latest activity
Edit
Ad blocker interference detected!
Wikia is a free-to-use site that makes money from advertising. We have a modified experience for viewers using ad blockers

Wikia is not accessible if you've made further modifications. Remove the custom ad blocker rule(s) and the page will load as expected.